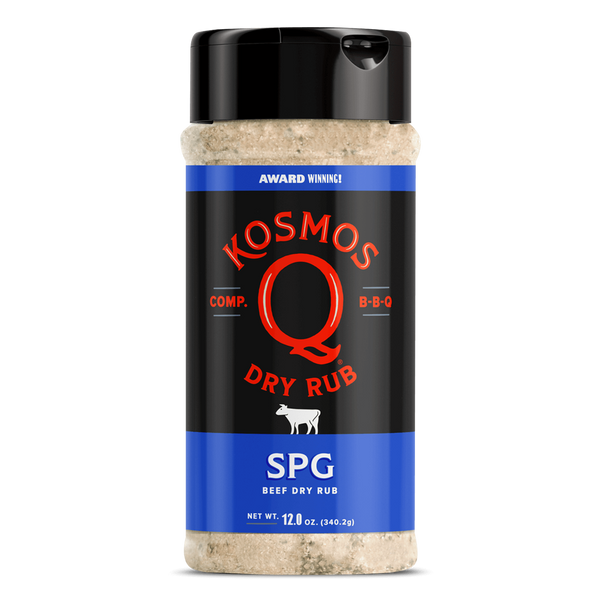 A Rub with Flavor so huge it will even make a texan blush... 
Kosmos Q - AWARD-WINNING & COMPETITION READY BBQ PRODUCTS
As the industry leader in all thing BBQ, we create competition-worthy BBQ products that are made with innovative, all-natural spice blends. We deliver the boldest flavors, the smoothest textures, and a cravable, unforgettable, finger-licking BBQ experience.
SPG BBQ Dry Rub - The Ultimate BBQ Rub Triple Threat - Salt, Pepper, and Garlic!
This dry rub was inspired by the simplicity of a Sunday BBQ, and the excitement of intense BBQ preparation with the anticipation of competition results. So, whether you are looking for a competition triumph or a big win with the guests at your next cookout, this rub is made to deliver the taste of victory!
As the newest dry rub spice blend in our line-up, SPG combines inventive ingredients that converge to create a bold, unforgettable, mouthwatering flavor.
SPG Rub Ingredients:
Sea Salt
Black Pepper
Garlic
Organic Cane Sugar
Kosmos Spices
Whether you are a BBQ legend, or need redemption from past cooking blunders, this Holy Trinity of BBQ Spices delivers divine flavor that will bring your cooking to life!
TRANSFORM ORDINARY MEAT: Sick of unremarkable, tasteless meat? Our award-winning, SPG BBQ rub will take your cooking to the next level. It transforms beef, poultry, pork, fish, and more, into lip-smacking, head-turning, delicious meat that is sure to "wow" even the toughest of BBQ critics. You'll soon find yourself being asked to host all the family barbecues and tailgates!  
A FLAVOR EXPLOSION: This delicious BBQ dry rub powder is the perfect seasoning to add cravable flavors to any meat! Our special blend of seasoning is the perfect balance of sweet organic sugar cane and savory spices. It delivers a mouthwatering explosion of sweet BBQ goodness. This original rub blend is full of robust flavors that will enhance your barbecue creations. It makes for an experience your tastebuds will crave.
EASY TO USE: Our BBQ rub will add knock-your-socks-off flavor to just about any meat! Whether you use it as a rib or steak rub, wing coating, or for kickin' up burgers and fries, you can't go wrong. Simply sprinkle on, or rub into, your meat of choice. You'll enjoy sweet-smelling and deliciously succulent dishes with Kosmos' infinitely customizable spice blend!
ALL THINGS BARBECUE: This BBQ rub has a versatile flavor that is great for kickin' up almost anything! It's a fantastic seasoning or coating for a variety of meats, including beef, chicken, pork, seafood, brisket, wings, ribs, or salmon. It's also the perfect rub for spicing up your other favorite foods. With just a sprinkle you can enhance the flavor of casseroles, potatoes, veggies, stews, and more!