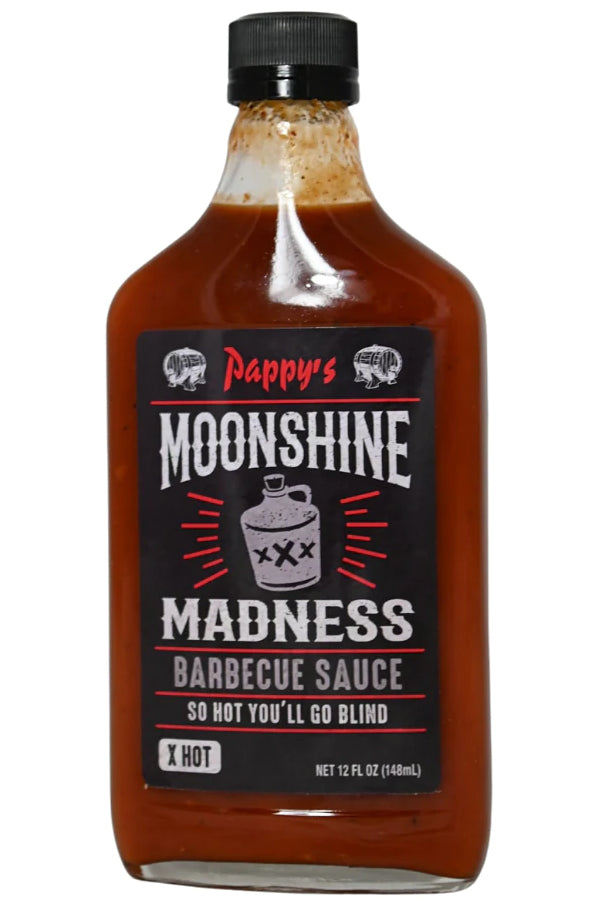 Pappy's Moonshine madness Barbecue
Pappy's Moonshine Madness, 12oz. - NEW LABEL DESIGN! Same Great Sauce! - So hot, you'll go blind! We're sure some chile heads will scoff that 'this ain't hot'. That's fine - keep in mind these are the same folks that think battery acid is a culinary treat. Enjoy a little Moonshine Madness, as each batch has just a little hooch to make it tasty, and a little 'madness' just to be cruel to sissies. Enjoy Pappy's Moonshine Madness, another fantastic creation by Shane Best, Kentucky's World Champion Grillmaster and the folks at Bourbon Q Brands Sauces. We figured we would hide this in plain sight, so that the Feds wouldn't find it!
From Kentucky.
Ingredients: Tomato puree, Worcestershire, white sugar, brown sugar, vinegar, red & black peppers, capsicum, Kentucky Bourbon, hickory smoke, natural hickory seasoning, modified food starch, and spices. No Fat.