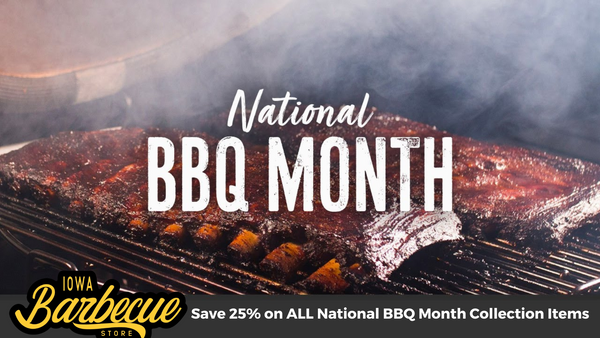 25% OFF SALE
May is NATIONAL BBQ MONTH and we're celebrating with 25% off ALL ITEMS in the National BBQ Month Collection! Stock up and save on world famous Sauces, Rubs, BBQ Accessories and Grills/Pizza Ovens!
SHOP SALE
Welcome to the Iowa BBQ Store!
Iowa's biggest selection and largest stocking dealer of Smokers & Grills, Award Winning Rubs & Sauces, Fuel, Grilling Accessories & More! Vist our Brick & Mortar Storefront in Ottumwa, IA or have it deliverd directly to your doorstep!
A friend recommended buying from Iowa BBQ Store online...so I did. The store was easy to navigate, pricing and shipping cost was good and they shipped soon after I ordered. Unfortunately for me, the shipment arrived but must have hit some turbulence while in transit. The box was sweet and fragrant before I even opened it. Dusty at Iowa BBQ was quick to resolve it and reship the order. Great customer service is worth a shout out! Thanks Iowa BBQ Store.
Nathan Bryant
This store has it all. Was looking for specific items that I usually have to order in from my home state of Texas. They had almost all of it in stock. Stayed and talked to the gentleman behind the counter for a while about BBQ. Overall wonderful experience.
Wallace Garner
Awesome customer service! The mail broke a bottle the first time I ordered, they had the replacement shipped out the next day and received it the day after! Super easy to work with and knowledgeable about what they sell and about their passion!! Second time I ordered, received everything the next day!
Troy Gualco
Come Visit Us!
2827 N Court St
Ottumwa, IA 52501
(641) 680-2283
hello@iowabbqstore.com
Monday - Friday, 10am-7pm
Saturday & Sunday, 9am-3pm
Map
273 Street Lane
San Francisco, CA 94102
(415) 557-4400
store@email.com
Monday - Thursday, 12:00 to 23:00
Friday & Saturday, 12:00 to 00:00
Sunday, Closed